Wedding Transportation - Bridesmaids & Groomsmen
WHY use a limo when you can get an affordable spacious executive coach for your entire bridal party?
Our executive wedding coach comes with leather couches, large mirrors, bathroom, 27" Flat Screens w/DVD player, stereo, mini-kitchen, privacy door in the middle of the bus / coach and more.
This wedding coach is about 4 times the size of a limousine. With the privacy door in the middle of the wedding coach, you can transport the entire bridal party if necessary; bridesmaids in the rear and groomsmen in the front. Limo's are a thing of the past, avoid leg cramps and arrive in style with Oleta's Executive Wedding Motor Coach.
Please complete the Get A Quote form today for customized wedding transportation.

Our Proposed Itinerary (Can Be Customized)
Our 24-passenger Executive Wedding Coach will pickup all of the bridesmaids at the bride's house where they will have private transportation in the rear conference room of the coach.

The wedding coach will then proceed to the groom's house to pickup all of the groomsmen where they will be transported in the separated front lounge area of the coach.

The entire bridal party will be transported to the church for the wedding. After the groomsmen are let off of the coach, the bridesmaids will then be let off of the coach.

After the wedding is over, the bride and groom will enjoy their first minutes of private time in the rear conference room of the wedding coach while the remainder of the bridal party will be in the front lounge area, being escorted to the reception.

At the reception hall, the bridal party will step off the coach to prepare for the entrance of the bride and groom. The red carpet will then be rolled out as the bride and groom step off the coach to make their grand entrance into the reception hall.

After the reception, all bridal party members will be returned to their hotel, church, or home.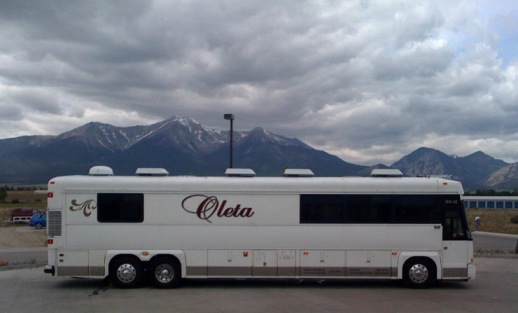 Office Information
Oleta Coach Lines, Inc.
P.O. Box 466
Williamsburg, VA 23187

Office (757) 253-1008
Fax (757) 253-1050
Wedding Transportation